My new book - Stakeholder Democracy - Represented Democracy in a Time of Fear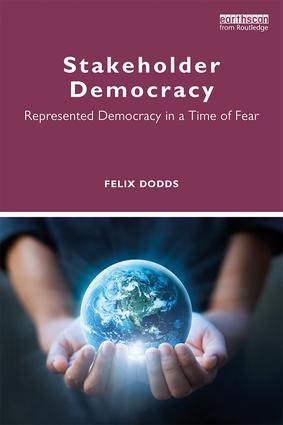 My new book Stakeholder Democracy: Represented Democracy in A Time of Fear (Routledge) is on advance order on amazon - out July 9th.  
I would also like to thank my co-authors Jan-Gustav Strandenaes, Carolina Duque Chopitea, Minu Hemmati, Susanne Salz, Bernd Lakemeier, Laura Schmitz, and Jana Borkenhagen for their chapters - which are awesome!! While underscoring that my co-authors do not necessarily agree with the chapters written by other people.
The book will be out in July for the High-Level Political Forum where we will be launching the book. Let me share with you the introduction for the book...and a few reviews out already.
"A revolution is coming — a revolution which will be peaceful if we are wise enough; compassionate if we care enough; successful if we are fortunate enough — But a revolution which is coming whether we will it or not. We can affect its character; we cannot alter its inevitability." (Kennedy, 1966) - continued in my blog here.